Aaron Bieszczad, VP, Treasury Management
When it comes to your company, wouldn't you like to be sure you're using every business tool available to give you an advantage?
The good news is not every product has to come with a lengthy "how-to" guide. Some are as simple as slipping your phone or card out of your pocket – but can play an important role in the health and prosperity of your business.
Waterford has a variety of easy to use tools to help save your business time and money, like our SecurLOCK Equip Mobile App.
Power in the Palm of Your Hand
You likely use some form of business mobile banking tool and have enjoyed controlling your account management and transactions from your phone. However, the convenience doesn't have to stop there.
Your business can (…and should) manage its corporate credit cards with the same level of ease. At Waterford, this comes in the form of our SecurLOCK Equip Mobile App.
With SecurLOCK, you control how, when, and where your corporate credit card is used, from one convenient dashboard. From here you can:
Monitor payment transaction activity
Receive instant notifications when your card is used
Enable your card to be used at certain merchants
Set spend and location limitations on how much and where your card can be used
Turn your card off, in the event you misplace it
As fraudsters are ever present, this is a great tool to have in your back pocket, allowing you to keep up with and deter potential fraud threats on your cards in real-time.
Cutting Edge Card Tech
Not only should you have tools on the back end to keep your cards safe, but your cards themselves should be equipped with the latest technology to keep them relevant in your pocket.
Gone are the days when the only option that piece of plastic in your wallet had was to use its magnetic stripe through a point of sale terminal. In today's world your card should be employing EMV Chip technology, with the ability for contactless payments.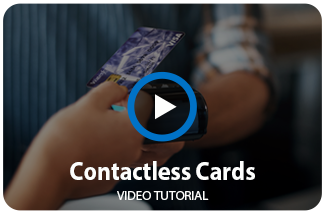 Contactless cards offer a quick and secure way of making purchases simply by holding your card near the chip reader.
These cards contain secure microprocessors that offer a quick way of making purchases simply by holding your card near a store's chip reader. Providing secure transactions in seconds, these cards employ security measures to combat theft, skimming, and counterfeiting 24/7.
Finally, if your card does go missing, does your financial partner offer a way to replace it quickly or will you be at the mercy of the postal system? In today's fast-paced world, your business shouldn't be confined to solely operating at the speed of snail mail.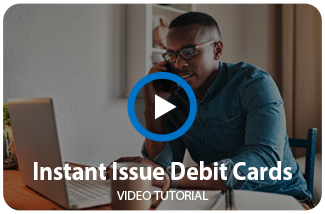 Instant Issue lets you get a new or replacement business or personal debit card with ease. Simply stop by one of our full-service offices to use this service.
The Waterford team is proud to offer all the above card protections, in addition to Instant Issue Debit Cards. Whether you've just opened an account or need a replacement debit card, all our full-service offices can provide a personal or business debit card in-house and at a moment's notice.
It's important that your financial partner has the tools and talent to help in your business' success. Do your research and compare the different products available to you, making sure you've also checked out who your support team will be. After all, you don't want to waste the time and expense with a partner that isn't available when you need them or constantly tries to sell you on products that aren't a good fit for your business.
The Waterford Treasury Management team is proud to offer a full arsenal of online and mobile business tools, along with the bankers to back them up, to help give you the competitive edge. From more advanced tools like Positive Pay to our ready to use mobile banking app, we'll provide you a dedicated point of contact who understands your business, anticipates your needs, and seamlessly helps you implement the right tool for the job.
---
About the Author
Aaron Bieszczad is a Vice President of Treasury Management at Waterford Bank, N.A. in Toledo, Ohio. Aaron specializes in helping businesses of all sizes optimize cash flows, maintain liquidity, manage risk and operate more efficiently. If you'd like to connect with Aaron to discuss strategies for your small business or any other banking matter, please contact him at 419-720-3908.