Updated 07/28/2022
Eric Perron, VP, Information Technology
Ready for an easier way to manage your cards? Our upgraded card experience puts more control, convenience and safety in your hands. Manage cards on the go with advanced controls and self-service capabilities.
Effective August 2, Debit Card Management Controls will be rolled right into your existing Waterford Personal Mobile Banking App. When this happens, our standalone debit card management app Card Valet will go away.
Please note, Business Customers should still use Card Valet.
Here's How the Debit Card Management Change Will Happen
On August 2, the Card Valet app will be unavailable. You will no longer need to access this app and may delete it from your mobile device.
When this happens, you will need to access the mobile banking app – just log in as usual and the app will let you know what's new. The app may need just a few moments to update and you should be sure you are running the latest version available from your respective app store.
IMPORTANT! After the update, be sure to log in to the mobile banking app and tap "My Cards". For users with My Location and Notifications previously enabled in the Card Valet app, tapping "My Cards" will ensure these features are activated within the new experience.
Cards and controls will carry over from the Card Valet app to our mobile banking app.
You can still use your cards during this app transition.
What Should I Do to Get Ready?
If you haven't already, download our mobile banking app, set up an account and login to become familiar with the app.
Turn on automatic app updates on your phone so you get the new features as soon as they are rolled out.
Enable push notifications in our mobile banking app so you know exactly what to expect and when.
Designed to optimize your experience, the new features will be found by tapping "My Cards" right inside our mobile banking app. You'll still have all the features you're used to in the Card Valet app, and more.
Debit Card Management Benefits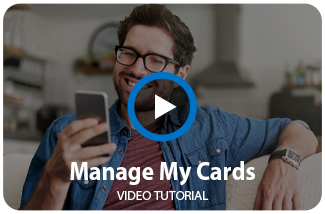 See how easy it is to manage your debit cards through Personal Mobile Banking in the video above or check out the listed benefits below.
Feel more empowered to control your card on your terms.
Turn your cards on/off at your discretion.
Know where every card is stored online.
Set spending limits based on location, amount, merchant type and transaction type.
Discover more convenience with enhanced features to enable a smoother user experience.
Enjoy 24/7 access to your debit cards.
Easily add cards to digital wallets.
Access card credentials without needing your physical card.
Activate digital debit cards instantly through the app so you don't have to wait on new or replacement cards.
Find more clarity with deeper insights of you spending,
Gain total transparency into every transaction with clear merchant names.
Keep track of spending with a glance.
View merchant name, logo, exact location on map and contact information.
Contact merchants directly based on transactions. View spending by what, when and where.
Feel more secure knowing your card has additional fraud protection.
Report lost or stolen cards in a couple of clicks.
Immediately turn off a lost or stolen card.
Through the app you can turn cards on or off, configure controls and alerts, view transactions, and so much more. Control of your debit card(s) has never been so simple.
So, whether you are used to managing your debit card through Card Valet or this will be your first time trying it -we're making the experience easier than ever. If you have any questions about what's happening or need a little help using the new service please contact us at 855-896-2064 or by email at customer.care@waterfordbankna.com.
---
About the Author
Eric Perron is a Vice President of Information Technology at Waterford Bank, N.A. in Toledo, Ohio. With nearly 30 years in the IT industry, Eric specializes in leveraging technology to improve the lives of our customers and their experience with the Bank. Want to connect? Contact us here.